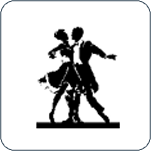 The Monday Club
Well used and well lit space, host to swing, tango, and contra dance events.
37 S. Maple Avenue
St. Louis, MO 63119
Contact: (314) 961-0200
This is a well-lit, very down to earth place that features several great dance events on both a weekly and monthly basis. No bar service here, but the groups that put on dances always know to provide ample water (and sometimes even nice snacks!).
On most Sundays the Childgrove Country Dancers have a super-friendly contra dance. Once a month Tal Stein puts on Swinging the Monday Club, a great night that always boasts a great turn out of swing dancers. Also monthly is Milonga Del Barrio as put on by Convergence, a great night of tango accented by dressy attire and great dessert.